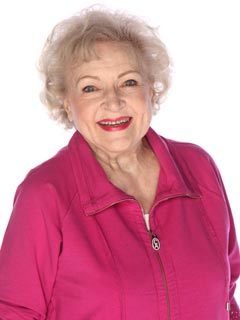 Born in Oak Park, Ill., on Jan. 17, 1922, Betty White attended Beverly Hills High School and performed on L.A. radio programs in the 1940s. Her work in TV began in the early 1950s, and the outgoing comic actress was named a candidate for "America's Sweetheart" by TV Guide. Two decades later, White became a household name as Sue Ann Nivens on The Mary Tyler Moore Show. By the mid-1960s, White became known primarily for hosting the annual Tournament of Roses Parade, a job she held for 20 years. In 1985, she landed a major hit as Rose on The Golden Girls.
White made frequent guest appearances over the years, and from 2004 to 2008 she portrayed accident-prone firm employee Catherine Piper on The Practice and its spin-off, Boston Legal. She also had stints on Malcolm in the Middle and The Bold and The Beautiful, and brought flair to 2009 romantic comedy The Proposal. But it was in 2010 that White's star truly exploded, at the age of 88. In a Snickers commercial that debuted during the Super Bowl, she portrayed a de-energized man playing flag football with his friends. "Mike, you're playing like Betty White out there," one complains. White, clad in a sweatsuit and covered in mud, retorts, "That's not what your girlfriend said." A YouTube sensation was born, and with it, a Facebook page called "Betty White to Host SNL (please?!)," which quickly amassed half a million fans and helped gel her actual co-hosting of Saturday Night Live. In addition, the Screen Actors Guild honored her with a Lifetime Achievement Award, while Jay Leno presented White with another such prize at the 2010 Genii Awards. In Hot in Cleveland, White portrays (naturally) quick-witted home caretaker Elka Ostrovsky.
Ad blocker interference detected!
Wikia is a free-to-use site that makes money from advertising. We have a modified experience for viewers using ad blockers

Wikia is not accessible if you've made further modifications. Remove the custom ad blocker rule(s) and the page will load as expected.