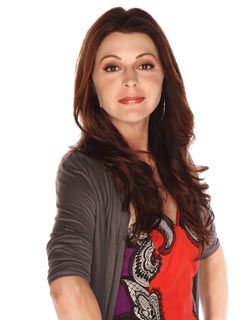 &nbsp

Born April 18, 1961 in Essex, England, Jane Leeves was a ballerina sidelined into acting by an injury. "I knew I would never be strong enough to be a soloist. And I wasn't going to be stuck in the back with all the other swans," she once said. The British actress cut her teeth on the most quintessential of Anglophile comedies, The Benny Hill Show. She moved to the States and got her big break in 1989 on the newsroom sitcom Murphy Brown; co-star Faith Ford (Corky) was her roommate. From 1993 to 2004, Leeves won hearts as Mancunian home health aide Daphne Crane on hit series Frasier. She has had roles on Desperate Housewives and The Starter Wife. In 2010, she was cast as eyebrow waxer to the stars Joy Scroggs in TV Land's first scripted sitcom, Hot in Cleveland.
How many degrees of separation? Leeves played a tourist in David Lee Roth's "California Girls" video in 1985. Roth is the former bandmate of Eddie Van Halen, the ex-husband of Leeves' Hot in Cleveland co-star, Valerie Bertinelli.
Ad blocker interference detected!
Wikia is a free-to-use site that makes money from advertising. We have a modified experience for viewers using ad blockers

Wikia is not accessible if you've made further modifications. Remove the custom ad blocker rule(s) and the page will load as expected.